Send Inquiry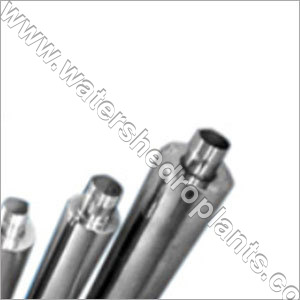 Product Description
Water Conditioner
The build up of scale deposits is a common and costly problem in many industrial and commercial processes using natural water supplies. Scale formation is the precipitation of sparingly soluble salts, most commonly calcium carbonate, which form an encrustation on susceptible surfaces. Water naturally has many minerals and these minerals crystallize and form on the surfaces of plumbing, fixtures, heaters, and water vessels.
That is where we step in with the futuristic Magnetic Water Conditioner cum De-scalant Magna-Guard. The technology of 3rd generation developed in technical association with Britt Gauss Technologies Ltd, Belgium.
Magna-Guard's focused magnetic field physically changes the water's molecular structure, which reduces the size of the water molecules. This reduced size makes the water feel softer and behave like soft water. As a result scale is removed from plumbing, appliances and fixtures saving a lot of money & time required to replace or clean the same.
Traditional chemical methods of scale control or water softening involve either the pre-precipitation of the scale former with lime or soda ash, the addition of scale inhibiting reagents or the replacement of the scale former with soluble ions by ion exchange. All of these methods, though effective in scale control, substantially change the solution chemistry and can be prohibitively expensive.
The US Department of Energy has endorsed the use of magnetic fluid treatment as a technology that is effective in the control of scale build-ups. Countries like Russia, Germany, Israel, England, Australia, Canada has also approved the intensive use of water conditioners based on magneto hydro-dynamics and recommended the device for vast applications.
Using Magnetic Conditioners (Water Softeners) to condition water has been used for 40+ years throughout many parts of the world. Many agencies have reported about the use of Magnetic Water Softeners, including the Federal Trade Commission, U.S. Dept. of Energy, U.S. Department of Commerce, American Chemistry Society, American Society of Heating and Air Conditioning Engineers.
Applications
Heat exchanges
Air conditioning systems
Cooling Towers
Oil/water separation systems
Offshore oil and gas platforms
Land based oil and gas wells
Mining industry process systems
Steel pre-treatment process systems
Pumps and valves
Steam boilers
Waste water systems
Sprinkler systems
Liquid waste disposal systems
Food and milk process systems
Concentrator and pasteuriser systems
Distiller
Benefits
Proven Magneto Hydrodynamics Technology (MHDT).
No Chemicals required.
No power required.
Zero maintenance.
Wide range of applications.
Technology based on Rare Earth Magnets(NdFeb).
Eco-friendly, No hazardous waste discharge.
Enter Buying Requirement Details
Other Products in 'Water Conditioners' category