Send Inquiry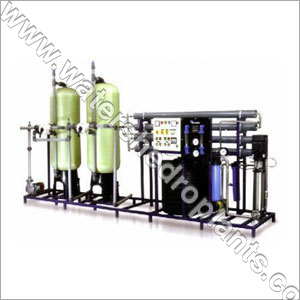 Product Description
Commercial RO Plants
Steadily marching in today's cutthroat market, we are one of the well established manufacturers and exporters of Commercial RO Plants. With the aid of our sound machines & technology, we are competent to manufacture these plants in compliance to the industry standards. These plants are widely used in food & beverage processing industries for large scale purification of water. Commercial RO Plants offered by us is well accredited in the market for their attributes such as unmatched performance, advanced technology and high operational fluency.
Further Details:

Reverse Osmosis (RO) is the most efficient and effective method of water purification known to man. It removes impurities as small as 0.0001 micron size (a human hair is 50-70 microns thick!) cleansing water of all biological impurities, suspended particles, dissolved solids (TDS), salts, Flourides, metals and chemicals. Most non-RO systems can filter particles only upto 5-10 microns in size, leaving behind almost all dissolved impurities (like bad-tasteing salts) and some fine physical impurities.
Reverse Osmosis (RO) is membrane separation process in which feed water flows along the membrane surface under pressure. Purified water permeates the membrane and is collected, while the concentrated water, containing dissolved and undissolved impurities that do not flow through the membrane, is discharged to the drain.
System Capacity depends on the water temperature, total dissolved solids (TDS) in feed water, operating pressure and the overall recovery of the system.
Advantages of RO over conventional Processes:
Compared with other conventional water treatment processes, reverse osmosis has proven to be the most efficient means for removing salts, chemical contaminants and heavy metals, such as lead, arsenic from drinking water.
For waters with TDS of 200 or more, reverse osmosis is preferred over ion exchange for removal of silica and organics. Compared with distillation reverse osmosis uses only a fraction of the total energy and does not have high temperature problems of scaling and corrosion.
Today reverse osmosis systems have proven to be the most economical and efficient means of improving the quality of water.
Why Us?

Apart from our customer oriented business approach and quality of products, a few other factors that helped us become the first choice of our customers can be accentuated as:

Reliable products
Large and reputed clientele
Prompt deliveries
Proven track record.
Enter Buying Requirement Details
Other Products in 'RO Plant' category